Monthly Archives:
April 2017
If you have invested in a good watch, you will know how frustrating it can be when your watch, or a simple, tiny component within the watch, breaks or stops working – making your watch unusable.
Thankfully, watch repair shops in London such as the official Watch Repair Shop in Hatton Garden offer a comprehensive range of watch repair services quickly and cost-effectively.
Watch Battery Replacement
One of the easiest watch repairs to make, bringing your watch back to full working condition, is watch battery replacement. If your watch has stopped and you're not sure why, typically, it means that the battery has been drained and you need to have it replaced.
Luckily, the Watch Repair Shop in London stocks and can source a whole range of top-grade batteries for well-known watches and models, which means you're putting the exact same battery back in your watch – this is always advisable to make sure your watch is running at its best.
The Watch Repair Shop's battery replacement services, including sourcing, start at £16.95. Better still, they offer a complimentary resealing and pressure testing to ensure your watch is water-resistant.
Watch Glass Replacement
If you work outside or in a busy office environment and commute to work every day, it's likely that, at some point, you would have scratched the glass on the front of your watch – leaving an unsightly mark that you glimpse every time your watch face flickers in the sunlight.
If your watch is merely scratched, watch repair shops will combine a mixture of diamond paste with careful, strategic buffing to get your watch glass looking brand new again. However, if the glass on your watch is beyond repair, you may require an entirely new piece of glass.
In London especially, it can be difficult to source the exact glass that fits your watch, which is why many jewellers choose to replace the glass with cheap plastic covers. However, that won't do if your watch is of a premium quality. Luckily, the Watch Repair Shop has years of experience sourcing the exact glass that fits your watch, whether it's flat, round, square, or even domed such as that of a Rolex.
Watch Restoration
If you're something of a magpie and enjoy rummaging through London's antique shops in your spare time, you may have stumbled on an old-school gem of a watch. Although, sadly, many watches struggle to stand the test of time, leaving them scratched and damaged or, in some cases, completely broken. But that doesn't mean you can't still purchase the watch as there are many London watch restoration services that will help bring your antique watch back to life. Better still, if the watch is damaged or broken, you may be able to pick it up for a fraction of its original value.
The Watch Repair Shop offer a watch restoration service and have years of experience restoring watches from some of the world's most prestigious brands, including Rolex, Cartier, Swiss, and Omega.
Finishing Touches
There are several finishing touches that can help give your watch a new lease of life, including watch strap replacement and watch engraving – especially useful if you're giving a watch as a gift.
When choosing your replacement watch strap, leather is an incredibly popular option as it is very versatile and durable and, typically, looks better with time. However, the downside of a leather strap is that, like many contemporary watches, leather isn't resistant to sea water and will corrode if regularly subjected to salt water. In which case, silicone is a fantastic alternative. Better still, for a premium finish, you can choose a sleek stainless steel watch strap.
Tip: If you're considering having a watch engraved, always choose something subtle on the back of the watch face to ensure it is personal and doesn't damage the aesthetic of the watch.
Whether your watch movement needs repairing or your entire dial needs replacing, visit https://www.watchrepairshop.co.uk/ for more information on watch repair services in London.
Tips On Making Your Wedding Day Extra Special For The Groom
Most women have dreamt about their wedding day. Ideas relating to the dress, venue, and the guests would usually come about. At times, women would forget that the groom might want a little romance as well.
More men today are romantics and in touch with their emotions. There are special gifts and ideas that you can think about in order to make your wedding day extra special for the groom as well.
Most of the time, traditional ideas are often more common. You can look back on this especially when you are both old. It is important to find the right present that is traditional and classy for your man.
You won't regret getting him a watch. You can even purchase a pocket watch as well. You can make the watch even more unique by adding an engraving of both your initials, the date, or some line or quote. These would give a more personal touch.
Most of the time, men won't have any preference when it comes to their wedding bands. By adding special touches like a saying or quote, you can make his wedding band even more special.
A hip flask is something that could be a big favorite. This gift is a good one because you can either get a vintage old school style or a more modern type. You can then have the flask engraved and put his favorite drink in it.
Personal artwork is something that you can also plan on. You can go online and look for tips and suggestions. A great idea is having a vinyl of your first song framed and adding wedding details to it as well. Old photo booth pictures can be printed out or made bigger in order to be framed later on.
You could also get him something that he really loves like a ticket to his favorite sports game or band. You can even plan a trip for him and his friends for a weekend festival or concert.
You can make your first night as a married couple something that both of you will treasure forever. You can make it extra memorable by surprising him with some classy but saucy underwear. Usually, there is a high expectation from this night that people will often have. What will happen on the night itself is usually not as great as what we imagined it to be. Unexpected incidences will often happen that you thought never would on that night. You will then keep these memories for life but the important factor is that you tried to create the best night possible. These moments are priceless and you can look back at it with love and fond memories.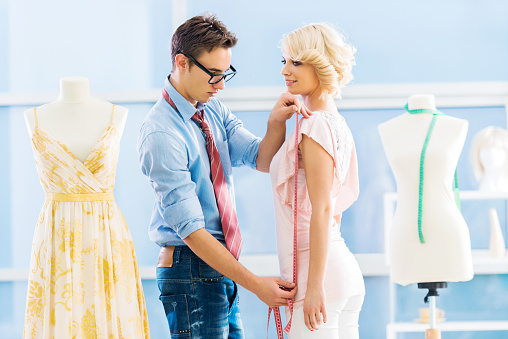 Growing a Designer Clothes Collection Designer clothes are barely cheap, but they make fab collections for people who are fashion-conscious. If you've been thinking of beginning a designer wardrobe, there are many possibilities. According to Brand Check fashion magazines to know the current ready-to-wear looks available today. If there is one certain designer whose style you totally love, don't think twice about buying items only by him or her. Every season, designers come up with a signature look, and being consistent with the label you wear will make your style just as distinctive.
Lessons Learned About Clothing
According to Item
The Beginners Guide To Dresses (Getting Started 101)
If there's a certain item of clothing you love, you can purchase various pieces from various designers. If you love handbags, for instance, then indulge in some designer handbags. According to Country of Origin The style of every country is evident in the designer clothing that is produced there. View fashion week videos from different countries to know the styles that are popular with every season. Generally speaking, though, you'll find French designers being very feminine in their style, Italian designers using lots of bright colors, British designers incorporating a sense of their history, and American designers being more sporty. To Highlight Your Current Wardrobe If you only want a few pieces of designer clothing, buy quality basics that you know you'll be using frequently, or select accent pieces that will spice up your wardrobe. For instance, jeans and tops can be paired with many things, meaning, you can wear various outfits with a touch of designer. If you want accents to your wardrobe, think jacket that could be worn with a dress, jeans and more. A Signature Piece To begin your designer clothing collection on a budget, get one signature piece. This can probably be a designer handbag or wallet. You can wear designer sunglasses with all types of clothes and you will get that glam fix anytime. Add one or two designer accessories to your current wardrobe even if you don't have a lot of designer pieces. Needless to say, it's crucial to measure yourself accurately prior to purchasing any designer clothing. Authentic Pieces As you go searching online for information regarding designer pieces, you may encounter a lot of warnings about counterfeit products. Some, for instance, will have a name that is pronounced exactly as a famous designer's name, but the brand will be deliberately misspelled. The speediest way to know if you have a genuine or fake piece is to just inspect the label, although that's not where it ends. You should also take a look at the stitching and the materials. Poor quality is always an indication of a fake product. Product Guarantee Lastly, there are a lot of people who make fake designer pieces, but to put it simply, choosing an authentic shop to buy from will erase all your worries about getting a cheap imitation. Thus, be choosy about where you purchase buy your designer clothing, and you will be safe.